https://app.lineupnow.com/event/welcome-to-the-neurospace

The company has been reformed as the NeuroSpace Collective.  A coming together of NeuroDivergent individuals who direct and produce their own works, individually or together.  
Our first show will be on the 22 to the 26th of February 2022 in the Barons Court theatre, West Kensington.  Nice and handy for both Barons Court (Piccadilly line) and West Kensington (District line).
PREVIOUS WORKS 2017 TO 2019.
THE ORIGINAL STEALTH ASPIES COMPANY DISBANDED AFTER OUR LAST SHOWS, 14-15TH SEPTEMBER 2019.
A new project is currently under way.  If you are interested in working in or with us, let us know on stealthaspies@gmail.com or hoxtonpaul@hotmail.co.uk
STEALTH ASPIES AT THE MARLBOROUGH THEATRE, JUNE 2019.
Shared as part of the 2020 Edinburgh free fringe online,
here is the show in it's entirety.  Please enjoy.
(True Star Trek followers will notice the similarity with the set behind us and the classic Harlan Ellison episode The City On The Edge Of Forever.  This was actually for our Theatre 503 performance some months before which covered two nights).
Here is the trailer for the film of our June 2019 Marlborough Theatre show.
14th and 15th September 2019 we played the last of the Aspies Annonymous shows in The Chapel theatre space, at 7:30pm.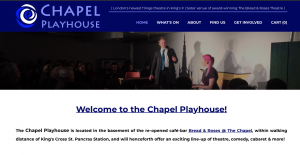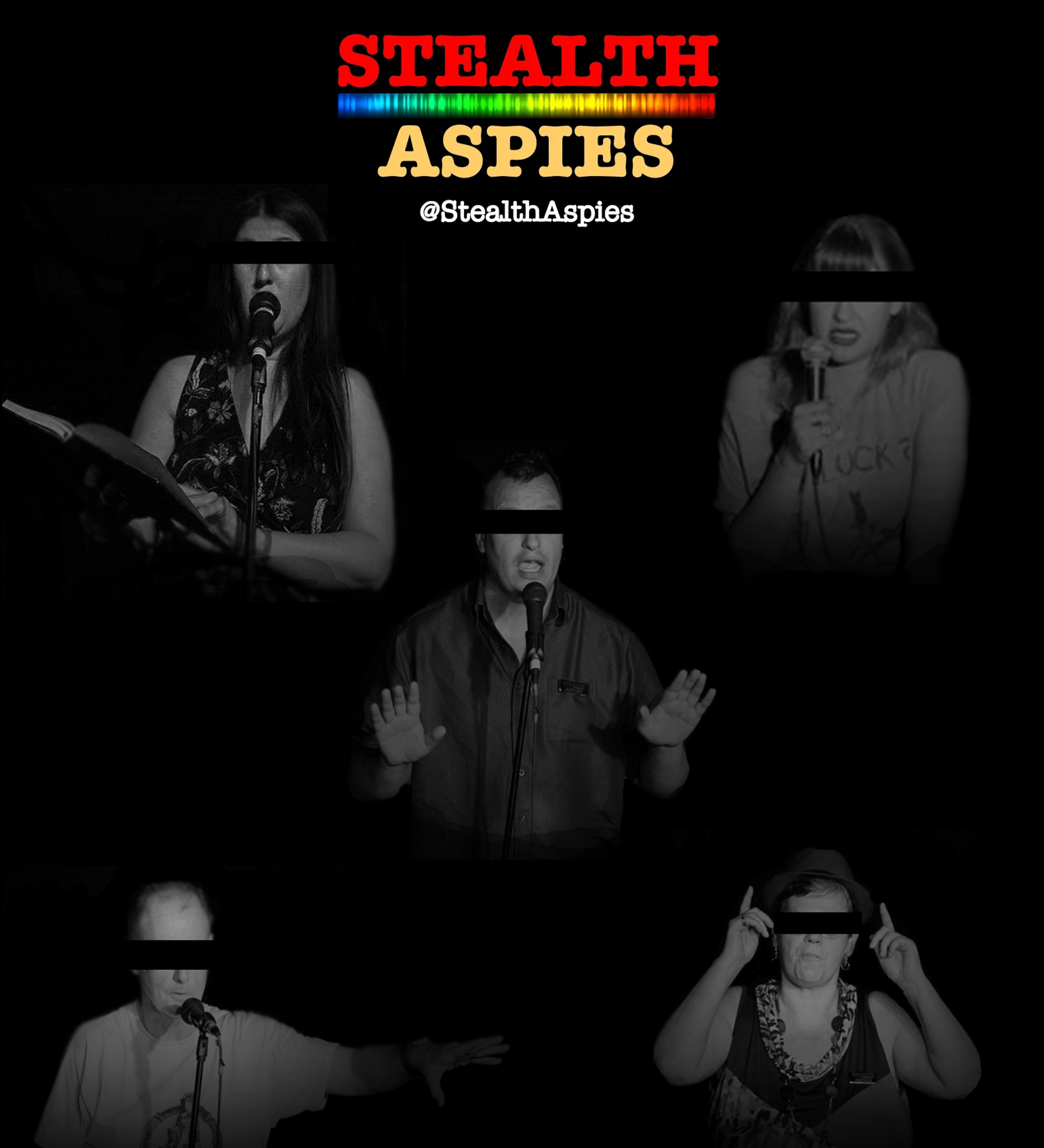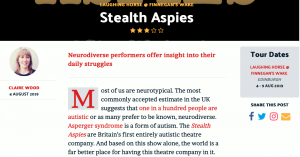 We were honoured that the legendary and arch Edinburgh festival fringe critic and performer Kate Copstick interviewed us for a podcast devoted to autistic performers.  We asked along our friend and fan from New York City, Anders Lee to join us.  Anders has a revealing, brave and funny solo show on the Festival right now, called Dummy.
Aspies Annonymous set played in a new venue, Finnegan's Wake, Venue 101, 9B Victoria Street.  12 midday for six days, 4-9th of August 2019.  It went well and we loved it.  We missed our old friends.
The poet and stand up performer Sez Thomasin joined us.  You will find out why when you hear her work.  
Link right here.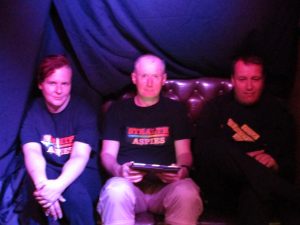 Previously in 2019…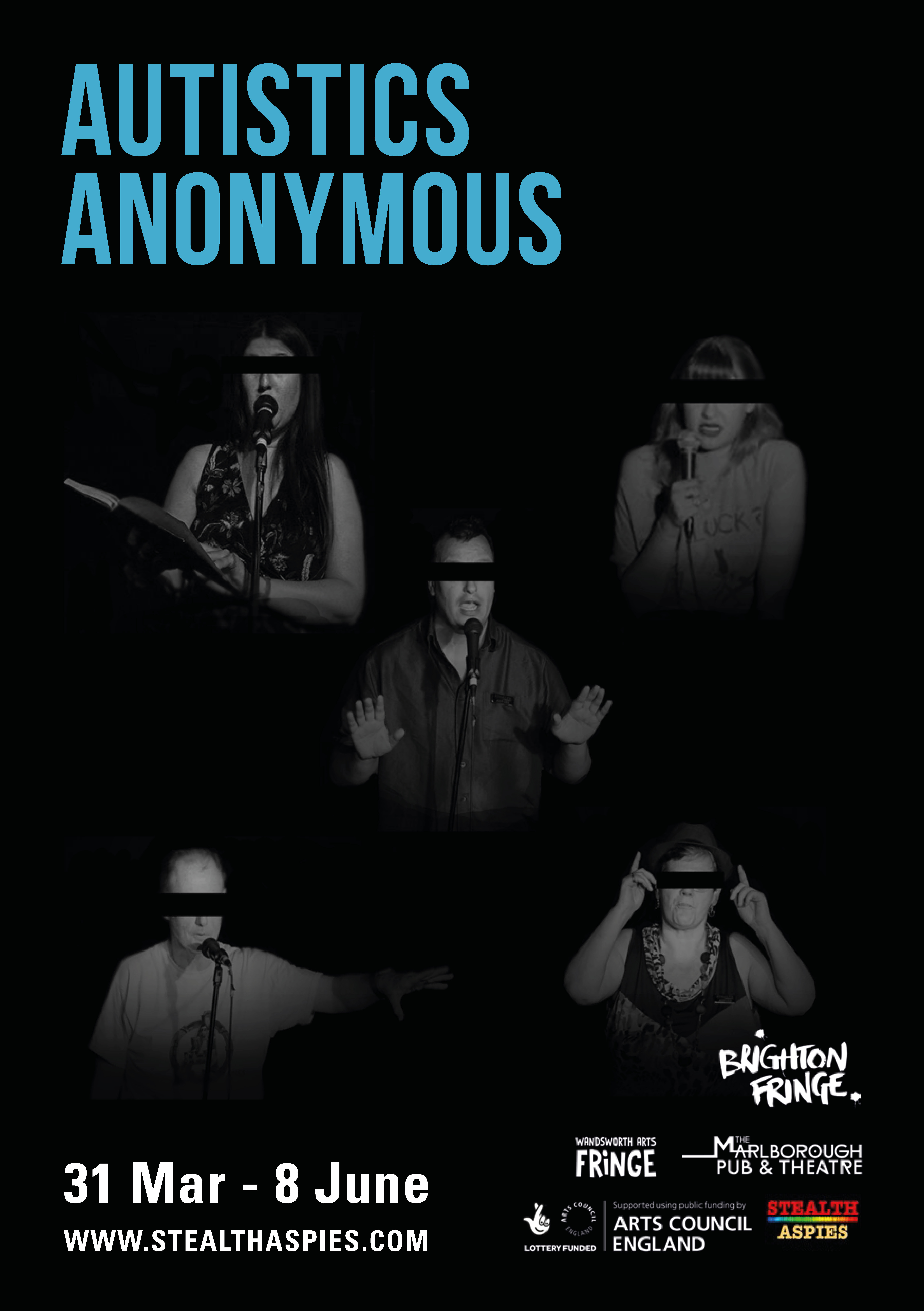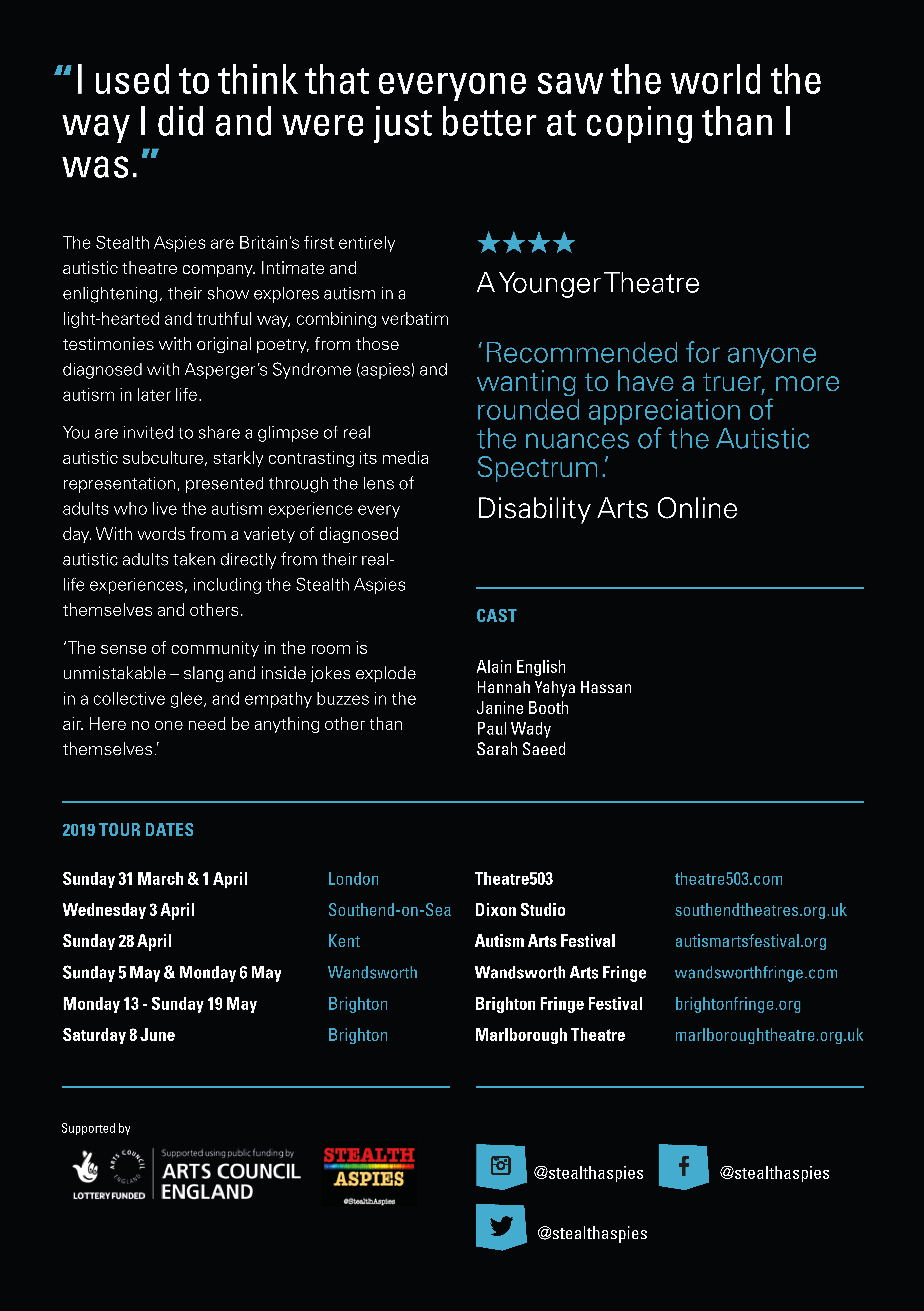 These images are links to our Youtube channel.  Please feel free to subscribe.
TOUR DATES NOW AVAILABLE
Yep, we are on the loose in 2019 and it is still not too late to ask us to do more.
Check our new page here?
YOU CAN STILL CONTRIBUTE.
We build our shows from surveys.
You must understand that filling in the forms means we may use the material for future shows and books as well, sold in order to maintain the company.
Thank you.
SURVEY ONE   https://www.surveymonkey.co.uk/r/83Y7Q9L
and
SURVEY TWO   https://www.surveymonkey.co.uk/r/83HX8FT
AUTISTIC MOTHERS SURVEY:   surveymonkey.co.uk/r/8LCWR7L
Welcome to the Stealth Aspies website.  We are the worlds first and only 100% autistic theatre company and have been in existence for three years now.  Here you will find our history and ideas without pity porn or concepts of disability constantly mitigating our voices.
The purpose of the company is to tell the truth of the lives of autistic people.  Born this way.  Living this way.  Having empathy for others of our kind like us.  Neither less nor more, we portray ordinary everyday autistic people.
We read and hear that as a community and a kind, autistic people are getting tired of having their natures and themselves stigmatised and related to in terms of relative deficits when with with the right adjustments and conditions, we can live our lives on our own terms and be happy.  We are usually not seen as people with personality and character.  Rather we are, apparently, a set of cliche'd characteristics.  Or symptoms depending on your point of view.
Performing the words and poems of real autistic people is a privilege and means we find ourselves in the experiences of others.  Men.  Women.  Children.  LGBTI.  Married.  Parents.  in relationships and alone.  The spectrum of humanity is here for you to find.  Please help us and contribute your stories.
Each member has their own page which constitutes individual blogs.
Our first two years of shows have been written from survey responses.  Here are the links.
PART ONE
https://www.surveymonkey.co.uk/r/83Y7Q9L
PART TWO
https://www.surveymonkey.co.uk/r/83HX8FT
AUTISTIC MOTHER'S SURVEY
https://www.surveymonkey.co.uk/r/8LCWR7L