A page maintained by Hannah Yahya Hassan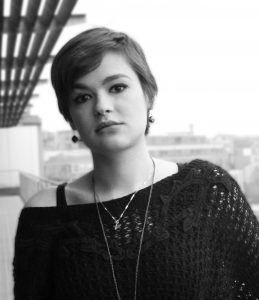 Hola, my name is Hannah Yahya Hassan and I met Paul Wady and Sarad Saeed at the Autism Arts Festival in 2017 in Canterbury a few months before I graduated from the university of Kent. I had not long discovered that I was autistic, as opposed to just 'anxious', 'depressed' and 'bossy', or as doctors had been formally putting it for years: 'panic disorder', 'hyper-vigilante', 'agoraphobia', and a bunch of other dated labels that male shrinks like giving women.  Paul and Sarah told me of their aspirations of taking a show to the Edinburgh Fringe festival that taught neurotypicals about autism. Paul later showed me the 'script' that he had put together and had been discussing with a performance artist friend of mine.
This was the Stealth Aspies script in its first form. I still have it somewhere. It was about 70 pages long and was a series of survey questions with various answers listed after them. Some were long winded paragraphs and some were mere sentences. Paul told me he wanted the show to be 'like the vagina monologues for autistic people'. After combing through the script and annotating it, I had a few ideas for the show. However, more importantly I  was taken aback by how similar a lot of the responses were and how a large number of them reflected my own experiences, to the extent where I was certain I had uttered the exact sentences I was reading.  I was also hit with a great sense of fury at the injustice of the world. Nobody should have to wait until they are 68 years old to find out that they autistic.  At the time, I was a student finishing a joint honours degree, waiting tables on the weekends, volunteering at the RSPCA on my free weekday and I was also heavily involved in my university drama society. I was busy to say the least but I was propelled by a strong notion that this show needed to be put on and these people, my newly discovered people, needed to be heard.  After some time passed, emails were exchanged and I met up with Paul and Alain in London. We discussed the script and brainstormed ideas and I took on the role of Dramaturg trying to execute our collective vision. It was at some point on that hot summer afternoon, half stuck to a leather sofa, that it hit me. We would turn these surveys into monologues. It would be exactly like the vagina monologues for autistic people. I asked Paul if there was any way to track down every person's individual submissions so we could turn these disjointed answers into first person narratives with fleshed out characters speaking of their experiences without the questions that had prompted them. He said there was, and once  he had collected them altogether, we had a library of monologues to choose from and perform, and this was the show we took to the Edinburgh Fringe in 2017.
As you'll notice if you go on an internet deep dive into our company, I took an extended break from The Stealth Aspies while I worked in Nottingham with Ramps on The Moon on a life changing production of Our Country's Good. I was living alone for the first time (best thing ever) and divided my time between the 40 hour work week I did at Nottingham Playhouse and the Saturdays and Sundays I worked as bar staff.  Most wondered why I did this, well, I liked the money and because I'm an aspie, I do not care about having a social life. I could of course have made the time, if I really wanted to, but I am compelled to share with fellow aspies out there, that doing the 2017 Fringe Festival was hell on earth for me. It was probably the hardest thing I've ever done. It was certainly the most painful. This is coming from someone who has the boniest parts of her body tattooed.
Regardless of the Stealth Aspies, I was going to the fringe that year anyway as I'd gotten a really well paid flyering job with lots of other perks. The day before fringe started, I was in a bar in Edinburgh meeting the comedians I would be working for and their famous friends. At some point in the evening, my boyfriend at the time had finally messaged me back. I had been dumped over Facebook , a week shy of our anniversary,  on the very first day of my new job. I then cried on far too many famous people and I was a hot mess. So fringe 2017 got off to a really bad start. He later wanted me back but that's fairly irrelevant to this story. My company rallied around me, and being around aspies at the time was the best thing I could have asked for as they knew how to comfort me and know what it's like when the person you love calls you a burden because of how you exist in the world.  That being said: living quarters were cramped, I was flyering in all weathers all around Edinburgh for 6-8 hours a day, with a work schedule that constantly changed at the last minute, I was doing the Stealth Aspies show, was consciously trying my hardest not to just die and only had 1 day off the whole month. Fringe burnout happens to most of us, and it would have been a difficult month for anyone, but for an aspie, a heavily medicated and depressed one, it was enough to scar me for life. It was during that time that I decided that 'Autistic Space' as Paul likes to call it, does not exist, because even though they were better equipped to support me emotionally, sharing a flat with a bunch of aspies is just like sharing a flat with neurotypicals. Autism's spectrum is incomprehensibly large, therefore, just because any two given people are autistic, does not mean they will both constantly remain inoffensive to the other person's particular needs.
After that month I just needed a few weeks in a dark flat by myself, which I did not get until i sternly asked for it and that was why I took some time away from the company, a company whose members I consider my friends and whose message I hold very dear to my heart. However, even now, I have very strong boundaries that I must maintain. I do not want to do anything considered 'artivism', I do not want to write books, or make public speeches, I am nobody's role model. All I am is an actor and that is all I want to do. i want to develop a career where I am considered a good actress, not a good autistic actress. Asperger's is deeply engraved in my personality and who I am, I would not be the same person without it, but I do not want to spend the rest of my life talking about it. I want to hear other stories, ones where 'disabilities' have nothing to do with the plot, they just happen to be there, existing.
Feel free to follow me on Tumblr:  https://a-worm-in-horseradish.tumblr.com/    And before you ask,  I do not have Instagram or Twitter because I value my sanity and what remnants of self-esteem that I do have.